Jharkhand
| | |
| --- | --- |
| CAPITAL | RANCHI |
| AREA IN Sq. km | 71006.4 |
| PRINCIPAL LANGUAGES | HINDI, SANTHALI, KURUKH, MUNDARI, NAGPURIA, KOTHA, KURMALI |
Sprawling on it's plateau, Jharkhand typifies the soul of India in time, this region conceals within it's bossom annals of civilizations that flourished for more than three thousand years in the southern part of Hazaribagh District.
A rift formation has yielded stone tools of early man and several rock shelters containing geometrical type art in the form of petrographs which are identical to the undeciphered script of the Indus Valley (2500 - 3000 BC). "KIKAT" Pradesh, according to the Rig veda, encompassing the territory of the Magadh in the Era of the Mahabharata (6 - 7th Century Bc), was located somewhere around the Parasnath Hill in Giridih District. In Akbarnama (16th century AD), the Kikat Pradesh was known as "JHARKHAND" later, the British rulers named it Chotanagpur in the post Independence period. Chotanagpur was divided into four divisions - North Chotanagpur, South Chotanagpur, Palamau and Santhal Pargana - for Administrative purposes.
Since early days, many societies, cullture and dynasties flourished on it's regal soil. The legacy of it's past survives in many caves and monuments left by the inhabitants of this land, each a cronicle of the glory of it's time and an imprint of the character of it's people and their rulers.
Today, the region - a curious blend of the tribal and non-tribal traditions; huts and sky scrappers; green hills, forests, water falls, rivers and rivulets enjoys its new statehood recently granted by the Atal Bihari Vajpayee Government.
Jharkhand blends within its fold the great legacies of the Dravidian, Astro-Asiatic and Indo-Aryans. These are evident in the spoken dialects which belong to three linguistic families - Indo - Europian of the non tribals, Astro-Asiatic of the Munda, Ho, Santhal, Kharia and Korwa Tribals; and Dravidian for the Oraon Tribals.
Cities

RANCHI- THE CAPITAL OF JHARKHAND
Tagore Hill - About 3 kms. from the Ranchi GPO, Tagore Hill is about 300 ft. high. As the hill is associated with a history pertaining to the Tagore family, it is known as Tagore Hill. A number of books are supposed to have been written by Nobel Laureate Rabindra Nath Tagore on top of this hill. At the foot of the hill are situated the Ramkrishna Mission Ashram and it's office and Centre of Divyayan and Agrarian Vocational Institute.
Ranchi Lake - Excavated by Col. Onsely, a British Agent in 1842, Ranchi Lake is centrally situated. It's a few minutes walk from the GPO and is adjacent to Ranchi Telephone Exchange. The lake has an added attraction of boating for the visitors.
Ranchi Hill - Ranchi, being situated at an altitude of 2140 feet, above sea level, is a popular health and holiday resort and a place of sacred pilgrimage. Some attractive sites in the town include Ranchi Hill, Tagore Hill, Ranchi Lake etc.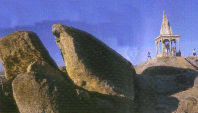 The hill top offers a panoramic view of the town. The Shiva temple situated on top of the hill, is an added attraction for devotees.
Gonda Hill - About 4 kms. from Ranchi GPO on Kanke road, is situated the Gonda Hill with a water reservoir on top. At the foot of the hill is a big lake, Kanke Dam and an attractive place for tourists.
Tribal Research Institute and Museum - The museum exhibits life and history of tribal people of Chotanagpur. A must see for all culture lovers.
Angrabadi - Angrabadi is actually a temple complex in Khunti which accommodates the temples of Lord Ganpati, Ram-Sita, Hanuman and Shiva. The Shankracharya Swami Swarupanand Saraswati, having been captivated by serene, placid and celestial beauty of Angrabadi, rechristened it as Amreshwar Dham.
Jamshedpur, also called Tatanagar is just 171 kms from Dhanbad & 140 kms from Ranchi. Both the names come from the legendary Jamshedji Tata. It was his vision that put Bihar on the steel map of the world. Jamshedpur has a number of tourist attractions too.
JUBILEE PARK: Situated in the heart of city, Jubilee Park is a replica of the famous Brindavan Gardens of Mysore. This park spreads over approximately 225 acres, dotted with flower beds and illuminated fountains to add to the beautiful decor. On the 3rd of March every year tourists come to watch the spectacular sight of the celebration of the birth anniversary of Jamshedji Tata.
DIMNA LAKE: Surrounded by flora the Dimna lake is 13 kms from Jamshedpur. This is situated at the foot of Dalma Hills. It is an ideal picnic site.
DALMA WILD LIFE SANCTUARY : Thick forests spread over 195 sq. kms. with elephants, barking deers, sloth bears, porcupines, leopards, tigers etc. makes Dalma Wild Life Sanctuary. The steep slopes of Dalma also offer excellent trekking opportunities.
SIR DORABJI TATA PRAK : Manicured lawns and flower beds and brilliantly lit fountains provide a delightful touch of colour to the park.
HUDCO LAKE : Nestled in the picturesque and hilly terrain of Telco Colony, the lake is a delightful retreat for those desirous of being in nature's lap within the city precincts.
KEENAN STADIUM : This cricket stadium has been acknowledged by many visiting cricket teams as one of the finest in the country. The lush green outfield can compete with the best in the world today.
TATA FOOTBALL ACADEMY : India's first football academy has an ultra modern gymnasium and imparts training based on international techniques to budding footballers. The hostel in the sports complex can accommodate about 500 persons.
JRD TATA SPORTS COMPLEX : This magnificent complex has an international size football ground with an eight-lane monosynthetic track. This is one of the best sports complexes in India. Facilities for handball, volleyball, hockey and table tennis and a modern gymnasium are available at the complex. Based here are the Tata Chess Centre and the Tata Archery Academy.
TATA STEEL ADVENTURE FOUNDATION : The Foundation provides scope for a wide variety of adventure sports, such as rock climbing, river rafting, para sailing, etc. The 40 odd adventure clubs under its umbrella maintain a hectic pace of activities for outdoor enthusiasts.
TRIBAL CULTURE CENTRE : The Centre showcases the ethos of our indigenous peoples. Besides imparting vocational training, it also organises tribal festivals and cultural programmes.
The other sites that attract the tourists are Tata Steel Zoological Park and the confluence point of the Kharkai and Subarnarekha rivers.
DHANBAD - THE COAL CAPITAL OF INDIA
The mining town of Dhanbad is internationally famous for its rich coal feilds. It is 171 Kms from Jamshedpur. This industrial and commercial town in the Chotanagpur Plateau has the distinction of lying in the heart of India's richest coal-feilds at Jharia. The surroundings of the coal city is enriched by numerous private and public industries.
EXCURSIONS
The Collieries, various technical institutions and research centres, and the landscape are the attractions of this industrial city.
Places to see
Topchanchi Lake - It is 37 kms from Dhanbad. Off the National highway no.:2 a road leads to the artificial lake at Topchanchi. It was excavated along the slope of Parasnath Hill in 1915 to supply water to Jharia. Situated in a quiet and beautiful environment, it is a paradise to nature lovers. It is just 6 kms from Gomoh, where Netaji Subhash Chandra Bose boarded the train for his historical departure from India on the 18th Jan 1941. A caution to tourists: do not move inside the jungles, beware of criminals and dacoits.
Maithon Dam - It is 52 kms from Dhanbad. Maithon can also be translated as 'Mother's Abode'. Maithon has the biggest reservoir in Damodar Valley Corporation. This dam, designed for flood control, has been built on Barakar river. It has a unique underground power station, a first of its kind in S.E. Asia. A little distance away from the dam lies an ancient temple at Kalyaneshwari.
The lake at Maithon is spread over an area of 65 sq.kms. On an island in the lake is a rest house which offers accommodation.
Boating and fishing facilities are available. Close by, a deer park and a bird sanctuary have been established.
PANCHET DAM - is constructed on Damodar river, is 22,155 ft. long and 134 ft. high. A hydel station has also been constructed against the back ground of Panchet Hill in the eastern side of dam.
BOKARO - Next door to Dhanbad is Bokaro, India's biggest steel complex. It is located on the southern bank of river Damodar along the Dhanbad - Ranchi highway. Bokaro is 47 kms from Dhanbad on Delhi - Howrah line. Besides the Steel plant other places of interest are Garga Dam, City Park, Stadium, Cooling Pond, Etc. Hotels and guest house are available here.
About 144 kms away from Ranchi, Netarhat stands on a plateau of Chhotanagpur and is surrounded by thick virgin forests, barren rocks and verdant hillocks at an altitude of 3622 ft. above sea level. It is an excellent health and holiday resort. An added attraction is the Netarhat Residential School nearby. Netarhat is accessible by an all weather motorable road. Among several dak bungalows meant for tourists Palamau Dak Bungalow offers the best scenic view of Netarhat.
Other places of tourist interest in Netarhat are -
Magnolia Point - 10 kms from Netarhat. It is an ideal site for a sunset view and a picnic point for all nature lovers.
Upper Ghaghri water falls - 4 kms from Netarhat and a unique picnic spot.
Lower Ghaghri water falls - Situated at a distance of 10 kms from Netarhat in lush green forest. A place of scenic beauty and a picnic spot.
Koel View Point - 3 kms from Netarhat and a good site for viewing Koel river.
Lodh Fall - 61 kms from Netarhat and one of the biggest water falls of Jharkhand descending from a height of 468 feet.
Sadani Fall - 35 kms from Netarhat, a snake type water fall and a popular picnic spot.

What to see
Jharkhand is among the few destinations that offer you the perfect holiday option with its enticing natural beauty. Its evergreen forests, wildlife, waterfalls, lakes, health and holiday resorts and soothing climate are a bonanza for tourists.
Chhotanagpur, a highland interspersed with rolling hills clad in luxuriant forest criss-crossed by numerous narrow, limpid hill streams, is riddled with celestial springs of bubbling mineral water. The majestic flow of water in a number of falls thundering down in rainbow mists enthrall the onlookers. Apart from the natural allure you can enjoy a wide range of pursuits.
WATERFALLS IN JHARKHAND
Dassam Falls - About 40 km away from Ranchi on Tata Road is a village called Taimara near which flows the Kanchi river. Falling from a height of about 144 feet Kanchi river makes a pretty fall called Dassam falls. It is also known as Dassam Ghagh. Tourists are warned not to bathe in the falls or at least be careful while bathing in the stream.
Hundru Falls - Ranchi is nature's bounty to mother India. It has specially been adorned with falls and streams. Hundru fall is about 45 kms away from Ranchi town. The Swarnarekha river falls from a height of 320 feet creating the wonderful Hundru Falls. At the base of the fall a beautiful pool is formed which allows visitors to bathe. During the rainy season it takes a formidable form but in summer it turns into an exciting picnic spot.
Jonha Falls - Jonha is about 40 kms from Ranchi. The road leading to Jonha is a bit narrow but not so rugged and arduous as that leading to Hundru. There is also a Tourist Rest House which accommodates Lord Gautam Buddha's temple. These falls are named after Gautam Buddha and are also called Gautam Dhara. Tourists can go upto Gautam Dhara station by train also.
Panch Ghagh Falls - Located en route to Simdega via Khunti, this beautiful waterfall has infact five falls and therefore called Panch Ghagh. It is about 55 kms from Ranchi
Hirni Falls - About 70 kms. from Ranchi en route to Chakradharpur comes the Hirni Falls. Tourists tend to be mesmerised by the scenic beauty here.
WILDLIFE IN JHARKHAND
Betla National Park - Palamau's Betla National Park offers a fascinating study of wild life in natural surroundings of forests, hills and valleys. The Betla National Park, first established as a sanctuary and later upgraded to its present status, has carved a niche for itself within a short span of it's life. The National Park occupies an area of 250 sq. km. on either sides of the all-weather Mahuadans Road off the main Ranchi-Daltonganj road on 11th km post as one comes from Daltonganj. The distance from Ranchi is 156 kms. Regular passenger buses ply between Ranchi and Daltonganj town from where Betla is only 25 kms away.
The national park has a large variety of wild life. Sometime back Betla had 2 tigers, 50 elephants, 800 sambhars, hundreds of wild boar and pythons as big as 15 to 20 feet. The park authorities provide jeeps fitted with searchlights for visitors for a fixed fare. The most coveted sight is a majestic gaur popularly known as bison. The fauna to be seen at Betla include langur, rhesus, cheetal (spotted deer), blue bulls and wild boars. The others are the porcupine hare junglee cat, honey badger, jackal, malabar giant squirrel and mangoose wolf, antelope etc. The park was declared in 1974 a tiger project reserve.
Jaivik Udyan (Zoological Garden) - About 16kms from Ranchi town on Ranchi-Patna road near Ormanjhi, is the Jaivik Udyan. A wide range of fauna entertain visitors.
Nestling in low hilly terrain, at an average altitude of 1800 ft. (615 metres) this 183.89 sq. kms National Park has an abundance of wild animals, i.e. wild Boar, Sambar, Nilgai, Chital, Sloth Bear, tiger and Panthar. The 1970 census has established the presence of 14 tigers, 25 Panthers and 400 Sambars.
PILGRIMAGE IN JHARKHAND
Rajrappa - About 80 kms. from Ranchi on Ramgarh Chitarpur Road, Rajrappa is situated at the confluence of the rivers Damodar and Bhairavi popularly known as Bhera. Rajrappa, which was once desolate hillocks with a small temple of Chhinamastika, has now turned into a famous pilgrim resort for the Hindu devotees mainly from Bihar and West Bengal. The headless statue of Goddess Chhinamastika stands upon the bodies of Kamdeo and Rati on a lotus bed. The temple is very old and its architectural design resembles that of other temples of tantrik importance. Though its antiquity is yet to be dated, some people are of the opinion that the present temple is a renovated one of the original temple. A number of other temples have come up around the original temple, particularly the temples of Mahavidyas (Tara, Shodashi, Bhubneswari, Bhairavi, Bagla, Kamla, Matangi, Dhumavati) built in a series.
Rajrappa has also turned into a popular picnic spot. On the day of Makar Sakranti (14th January) a religious fair is held here. Rajrappa can be easily reached from Ranchi and Hazaribagh. It is en route to Bokaro from Ramgarh.
Parasnath - About 190 kms from Ranchi, Parasnath (also knows as Samved Shikhar) is the highest hill in Jharkhand rising to 4431 ft. above sea level. It is the most sacred place of the Jains. It is believed that 20 out of 24 Teerthankars attained their Nirvana there. Both Shwetamber and Digamber Jains have their temples there.
Sun Temple - About 39 kms. from Ranchi on Tata Road near Bundu, stands the elegant Sun Temple fashioned in the form of huge chariot with richly decorated 18 wheels (nine on each side) and seven life like horses. A beautiful dharmashala, meant for the pilgrims and the tourists is under construction. The all- weather motorable road upto the temple premises attracts tourists who are captivated by Sun Temple in placid and serene surroundings.
Jagannathpur Temple & Hill - About 10 kms. from Ranchi GPO is another sight seeing as well as pilgrimage site for tourists. The old temple of Lord Jagannath, built in 1961 in architectural style of Puri Temple stands like a fort on top of the hill. A portion of the old temple has come down and awaits renovation. Its chariot festival held in the Ashadh Mas draws a big crowd comprising of tribals and non-tribals. HEC township nearby is an added attraction.
Baidyanathdham (Deoghar) - A famous Hindu pilgrimage, it is also called DEOGHAR or the house of gods and godesses. Situated on the eastern side of Bihar, this township is very close to the Bengal border. In the month of `shrawan', visitors from all over come to visit this important temple where the Kamana Linga of Lord Shiva is situated. Many of these devotees come walking traversing a distance of some 100 kms on foot to pour the holy Ganga water on Kamana Linga picked up from Sultanganj. Baidyanathdham can be reached by train on or road. Jaisidih station, on the Howrah-Patna rail line of Eastern Railways is just 7 kms away. Regular bus services from Ranchi and Patna are available. From Bhagalpur this pilgrimage site is about 80 kms.
Satsang Ashram (Deoghar) - Satsang ashram in Deoghar is one of the holiest places for the followers of Sri Sri Thakur Anukul Chandra who spent his last 25 years of life here. A cluster of socio-industrial and cultural institutions have developed at Deoghar.
Ashram attracts a large number of devotees everyday. Twice a year, mass congregations take place; once on the occasion of Bengalee New Year in the month of April and second after Dusserah in October.
Anjan Gram - Anjan Gram is believed to be the birthplace of Lord Hanuman. Goddess Anjani was the mother of Lord Hanuman after whose name this place has been called Anjan Gram. A very ancient statue of Anjani mata is situated inside the Anjani cave. Surrounded by the Netarhat hills and the river Khatwa, Anjan Gram is located at a distance of some 130 kms from Ranchi
Shakti Mandir -Situated in the heart of the coal city, Dhanbad, is devoted to Goddess Durga who is also known as Goddess of Shakti, after which the mandir has been named by the devotees. Its situated in Joraphatak road, Dhanbad. There is a akhand jyoti in the mandir which is brought from Vaishno Devi. The devotees regualrly perform bhajanas, jagrans and kirtans here.